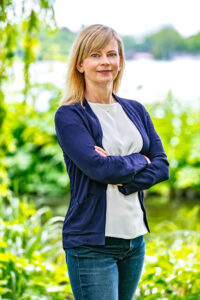 Raised in several countries, I have grown up to become highly adaptable, inherently curious, and open-minded. Indeed, I thrive on change. This core personality trait, combined with an insatiable desire to learn and a keenness to experience new things, has guided my career path whether selecting leading positions within global organizations or when setting up and managing new companies myself. My clients value that I am not intimidated by uncertainty, something they can leverage when tackling their own change challenges. I work with clients individually or with teams on improving leadership skills from communication, guiding conversations, improving emotional and interpersonal skills, transitioning to new roles / team settings as well as managing change and resilience.
My coaching certification is from Meyler Campbell (London), which is accredited with the Worldwide Association of Business Coaches (WABC) and has course recognition from the Association for Coaching. I have also completed Nancy Kline's Thinking Partnership Programme, trained by Nancy Kline herself. I have trained with the Strozzi Institute in "Embodied Leadership" and am qualified for Hogan Assessment. I am an affiliate member of the Institute of Coaching Professional Association of Coaching (ICPA), at McLean Hospital, a Harvard Medical School affiliate and a member of the Association of Coaching.
Next to executive coaching, I lead my own strategic consultancy – based in Munich, Germany – advising established and emerging corporations across industries and regions on strategic communications, change management and corporate organization with a focus on the people factor. Over the span of my career, I gained significant experience in financial markets, media and manufacturing, taking leading positions for key industry players and setting up and managing companies both in Europe and the US.
Additionally, I am an active partner for Alphazirkel, Germany's leading private, non-profit network of over 4,000 family businesses, founded 15 years ago to discuss the specific challenges of family businesses and their shareholders in securing their companies for the future. Here, I regularly moderate panel discussions, facilitate workshops and organize events around the topic of transformation and digitization.
I hold an LLB (Honours) in European Law from University of Warwick (UK) and a Masters in Business Administration from the University of Birmingham Business School (UK).
I live in Munich, working internationally. I coach in English and German but can also converse in Dutch, French; I am currently improving my Italian. My biggest passions are spending time on my sailboat, in nature and going on new adventures.